About Us
Exceptional wines and spirits from across the globe delivered to your door.
Dublin's Favourite Off Licence since 2011
Baggot Street Wines and Spirits stocks the largest range of fine wines and whiskeys in Ireland as well as a wide selection of spirits and craft beers. Our collections are selected based on variety and quality.
We're strong in our belief that customer relationships play a pivitol role in the success of our business, so we bring our personal and passionate approach to every product we sell. We pride ourselves on our level of knowledge and expertise across our entire product range and are always on hand to help find the right choice for customers. With the highest wine education of any staff in Ireland, including 10 WSET Level 2 and 8 Level 3, you can count on us to point you in the right direction.
Whether it's to celebrate a special occasion, give a sentimental gift or simply indulge in a fine glass of your favourite spirit, we are here to deliver the right choice for your unique taste.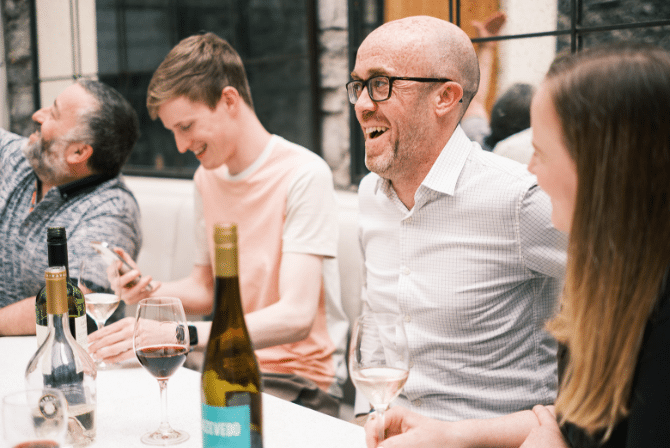 Meet the people who make Baggot Street Wines and Spirits so special and check out what they recommend from our selection.
Awards and Accolades
"Great shop and the most amazing staff! I can't tell you how many times I've walked in there with a particular flavor profile craving and a price range and ended up with an amazing bottle of wine that is just what I wanted- and the beers are bad ass!"
"Best place to buy wine and beer in South Dublin. I went to many different chains but there is never an experience such as at the Baggot Wine Shop."
"They have a GREAT selection of craft beers which you can purchase by the bottle, and the selection is constantly changing."
"Great wine store in my neighborhood with knowledgeable and helpful staff. They write good descriptions about the wine, the flavour, the origin etc which makes it easy to buy. The staff will help you and recommend you wines as per your taste and liking."
"Fantastic shop, amazing selection of wines from around the globe and very competitively priced. Most importantly, staff are top notch, great to talk to, very friendly, knowledgeable and really really know their stuff and always give good advice."
"I recently popped into this atmospheric, and laid back wine shop, and they have a great selection of wines. Their Spanish and Italian sections really stood out with some interesting wines."
"Baggot Street Wines are an absolute joy to work with. Every order of champagne & wine I placed for Dropbox was handled quickly and professionally, and I can't wait until we're back in the office and placing our usual orders!"
"I order a lot of wine for my company over holiday seasons and for general gifts for corporate needs. The staff have always gone above and beyond, sourcing Middleton Rare for me on one occasion as I needed multiple bottles. Guidance on whiskeys etc… Then the products would arrive almost same day to the office!"
"Love love love.. Advice is always spot on and delivers every time.. It is a pleasure to shop there."